About us
We are a family owned and operated trail outfitting company.
We offer one and two week camping trail rides in Arizona since 1998.
Our adventure trail rides give you the opportunity to escape modern everyday life. You will ride back in time with the comforts of modern life.
Our trips are vehicle supported. Your luggage will be transported from camp to camp. Camp will be set up when you come riding in, access to hot showers daily and all meals included.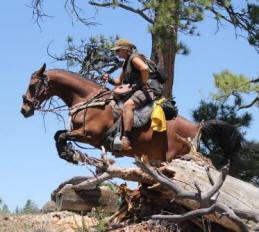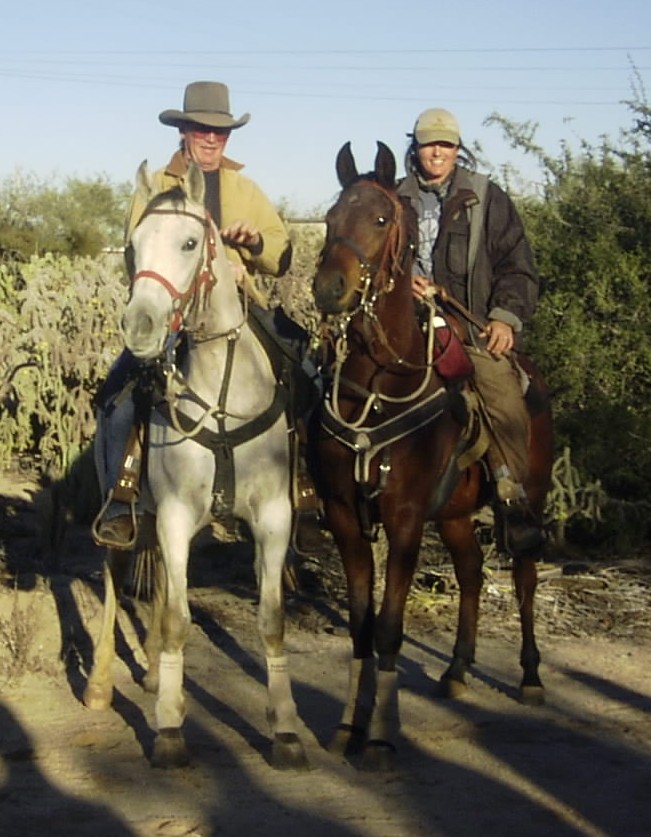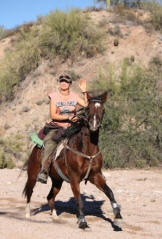 owned and operated by Dominique & Ron Bowers & daughter Lena
and the four-legged workcrew

There is no better way to experience the desert then crossing it on horseback. However, wide open spaces of the desert require us to cover an average of 25 miles per day.
Which means 6 - 8 hours of saddle time daily to cover the distances between camps. So we do require a certain experience.
You should be able to walk, trot and canter for extended periods and should be in good physical condition able to ride 6-8 hours. We do take breaks every hour to stretch our legs, but the pace can be quite challenging with long stretches of trotting and cantering where the terrain allows. However, we try to adjust to every ones riding ability to make it enjoyable for riders and the horses as well.
Trail ratings : 1

easy trail/rel. flat terrain;
2


moderate trails/some steep mountain trails;
3



difficult trail/ steep mountain trails/ long days in the saddle
In regards to our horses. We have horses for all riding levels. From Arabians, 1/2 Arabians, Quarter Horse crosses and Missouri foxtrotters. The tack is western with comfortable cordura saddles. Cantle bags, saddlebags and canteens will be provided. You will choose your mount in the beginning of the trail, which will be yours for the rest of your time with us. You will be expected to groom and saddle your horse ( of course we'll help you and make sure everything is how it should be) as this is part of forming a bond between you and your 'partner' . Otherwise all you have to do is to enjoy the ride and we'll do the rest. We strictly center around horses and riding and since our horses are as important to us as our guests we would like you to take into account our ratings for our trails. Please take your riding ability and physical condition in consideration when choosing a trail.
On our camping rides we provide
all camping gear (except sleeping bags)
roomy 3-4 person tents with comfortable cots as well as pillows.
hot showers in camp
all meals (hearty cowboy breakfast, saddle bag lunches and a variety of dinner menu's). Please let us know of any special dietary requests at the time of booking.
beverages (non-alcoholic like ice tea and fruit punch, alcoholic beverages available at self cost )
horses and tack (including canteens and saddlebags)
friendly, knowledgeable staff (all guides are First Aid certified)
You just sit back, relax, enjoy and have fun.
Our rides are camp to camp rides. In our camps we try to provide you the most comfort possible for point to point rides. Our tents are spacious dome tents with cots and we do provide pillows.
Wholesome tasty meals prepared in a modern day chuck wagon are served in a variety of menus throughout the trail. Beef, pork, or chicken, fresh vegetables, potatoes or rice, bread or rolls and some Southwest meals for dinner are served family style around a table. Breakfast menus consist of eggs, pancakes, French toast, bisquits, potatoes, and gravy, bacon or sausage, juice; and a lot of coffee, tea and cocoa.
Drinking water and water bottles are provided; flavored drink mix with electrolytes are also provided and you are encouraged to use them here in this southwest heat.
Portable chemical toilets are provided in camp but while on the trail the bushes and trees will serve your needs.
Since these are not real pack trips using packhorses to carry our gear, we do not have a weight and quantity limit on luggage. The luggage as well as all other gear will be transported in our support vehicle. A horse trailer with shower facilities and portable toilet will await us in camp daily and a 12 passenger van will be available to explore local attractions or events.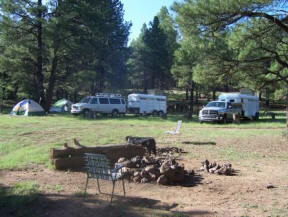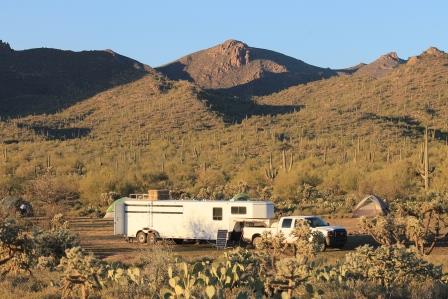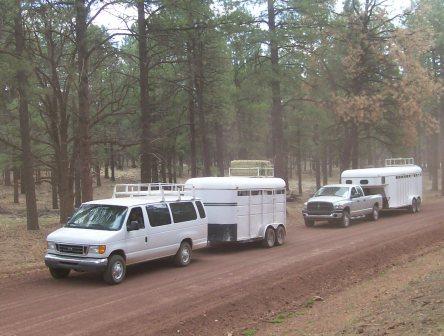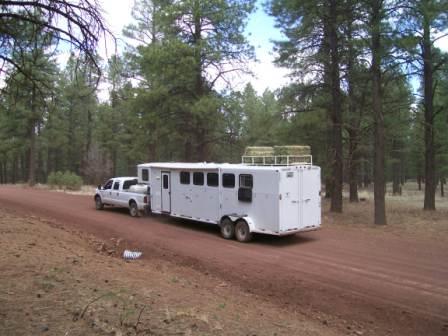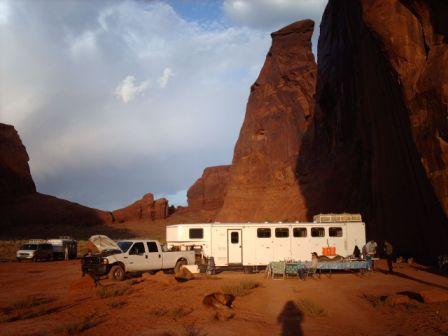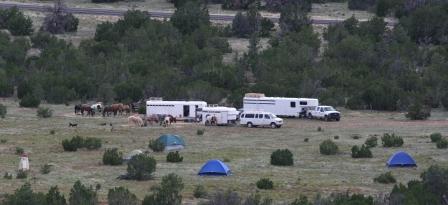 We operate under permits by USFS and BLM.
"The US Department of Agriculture (USDA) prohibits discrimination in all its programs and activities on the basis of race, color, national origin, sex, religion, disability, political beliefs, sexual orientation, or marital or family status. Persons with disabilities who require alternative means of communication of program information (Braille, large print, audiotape, etc.) should contact USDA's Target Center at (202) 720-2600 (voice and TDD.
To file a complaint of Discrimination, write USDA Director, Office of Civil Rights, Room 326-W, Whitten Building, 1400 Independence Avenue, SW, Washington, DC 20250-9410 or call (202) 720-5964 (voice and TDD). USDA is an equal opportunity provider and employer."
What you need to bring
sleeping bag (for the early spring and late fall trails we do recommend a heavy duty below 0 sleeping bag)
sunscreen
slicker / raingear
personal toiletries and clothing
towel
hat (sun protection)
chaps (not required but recommended)
flashlight (a good headlamp is recommended)
riding boots or appropriate shoes for spending hours in the saddle