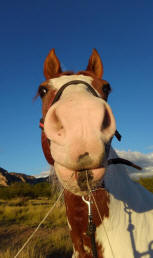 Howdy trailfans,
It is the season for another newsletter again. Yes, Itís me, Spotsie giving you an update on our first year without trails. And boy, did this year go by fast. We had lots of changes here at home. Family members moving away, new guys coming and going, new kids born and lots of riding in different places.
It started already end of last year with my brother Heza and Napoleon and Lena moving to Germany. Heza and Napoleon spent one month in quarantine in Texas and made it to their new green pastures just in time for snow.



Mom brought some new kids home from Utah for training. One was a kid look a like and he was really fun to play with. Two of them stayed down here in Arizona and one went back to Utah to his new home. Then mom picked up three more relatives from Utah in training, with two going back to Utah and one staying here in the neighborhood. I see him quite a bit. He is fun to play with.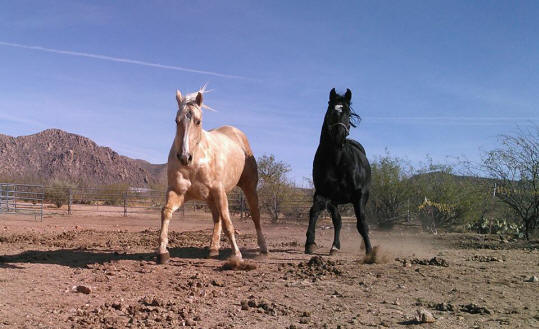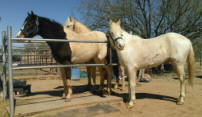 Rusty and Newt found their new families close to home. They continue to ride desert trails here in southern Arizona.
Sandy is living in Prescott now with her new mom Judy Johnson.
Mom and I got to do quite a bit of Endurance rides with Frankie and Bo earlier this year. We did the Tonto Twist in January, Wickenburg in February, the old Pueblo in March and then we went on a fun trip to southern Utah for the Mt. Carmel ride with a visit and a super cool ride down the Paria river deep into the canyons. I would have to say this was my favorite trip this year.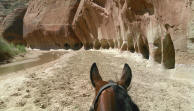 Frankie found a new love in Utah and is staying with Dana in Torrey now.
Blondie did the longest trip to be with his BFF Alex in April. After quarantine he went to Holland, then France and then by ferry to his final destination Guernsey, one of the british channel islands. He was pretty exhausted when he got there but quickly settled in with Alexís good care. You can follow him on facebook in one of moms albums, ĎBlondieís island adventuresí .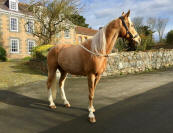 The summer was long and hot as usual down here. We stayed around home waiting for the babies to arrive. Ebony sadly lost her black and white baby girl at eight month of pregnancy during the hottest part of June. BG and Blue Fire made it through the hot part of the year still in foal. And end of August BG had a healthy baby boy , Tor, who looks identical to her. Two month later in October Blue Fire gave us another present with Daz, a buckskin Pinto colt. Daddy Lilly Boy couldnít be more proud of his two boys. He canít stop watching them play over the fence. Tor has already found his forever family with lots of kids to play with. Heíll be moving away pretty soon. Daz is definitely staying. He already has his followers on facebook with his own album and his own page here at DMT . Iíll take him under my wings soon though, so Iíll have another guy to play with. I have been the only boy out in the pasture with my two sisters Ebony and Bo and niece Queenie. And that is no fun at all. They donít like to play at all.


Besides watching babies we have done a lot of riding around home. I got to do an extreme cowboy race at the Rancho de la Osa in Sasabee which was fun. Mom is working on our obstacle course at home and said we might do some more of those next year. She has been quite busy training, shoeing and trimming outside horses all year, but she still has plenty of time to spend with us now. And I really like that. I canít wait for more of that next year.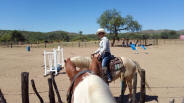 As for next year Mom will continue to offer her services ( shoeing, training and lessons) to a limited number of clients so she has enough time for us. In her spare time she says sheíll be working on her Photography and possibly on a book or two. The 2019 calendar will soon be available also if anyone is interested. Dad still gets to play ranch hand and cowboy. And gets to ride his motorcycle.
Lilly Boy will do his best in the spring to make some more babies so we can watch some more little lilly boys running around. If you are interested in a photo session or guiding, mom and I will show you around. Or if you are in the area stop by. Give mom a call.
And as usual Iíll keep ya posted on anything new around here in the future. Follow me on my visual News Page . And on facebook of course.
For now we wish you all a Merry Christmas and a Happy New Year.
Spotsie, Bo, Ebony, Queenie, Lilly Boy, BG, Tor, Blue Fire, Daz, Missy, Dan, Katie, Bandito, Buddy, Chica, Ron, Dominique, grandma Anneliese and grandpa Fred.
Note from Daz: You are all welcome to visit me anytime. I love playing with people. You gotta tell mom first though.