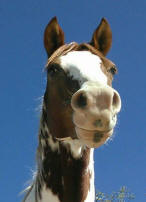 Howdy trail fans,
Here is Spotsie speaking. As Heza already told you this spring, I will be taking over my brothers place as the spokesperson. Heza will still be standing behind and help me out once in a while, as well as the rest of our family here at Desert Mountain Trails.
So, here we go. Another year has passed, we did quite a bunch of Endurance rides, besides our regular trails. The excitement started right away with Frankie doing his first LD Endurance ride in Bumble Bee. He told me he did really well and was very happy to tell us all about it.
Shortly there after a new family member was born. Mom spent several nights waiting for Blue Fire to deliver until a bay filly finally came into this world around eight o'clock in the evening. She was a sweat heart and a runner from day one. By now she is almost one year old. We all love playing with her and watching her run amongst us now… The humans call her Queenie, she already has her own page which documents her life from day one. Check her out at http://www.desertmountaintrails.com/queen_of_diamonds.htm
Frankie and mom left for another Endurance ride in Wickenburg. She planned on giving Frankie a nice and easy first 50 miler. He told us later that it wasn't as easy as she told him. Lots of climbing in and out of canyons, rocks and deep sand reminded him of the work we do every day. So, he didn't think it was too different from a usual Trail day and was ready to go the next morning.
Then I took part in the La Fiesta de Los vaqueros rodeo parade here in town. That was pretty cool. Sister Sandy, brother Blue Boy also joined us. Mom said we'll do it again next year. If anyone is interested PM mom. The parade will be on the 23rd of February.
I also got to go to the Old Pueblo Endurance ride with Frankie and Ebony. That was also a lot of fun. Mom decided to do 25 milers every day since she hurt her back a few days before the ride. We didn't mind at all.
The first few trails were a lot of fun. I got to go on nearly every single one this year...
Lena didn't make it for the first one, so we managed with the help of grandma and Tammy. We got to meet a film crew making a commercial for Yeti coolers at the Quarter Circle U. We also did one of my favorite activities - swimming in the river.
Not really, just kidding.
The Arizona trail was still a bit cold, but mom and Lena rode even with only one guest. They said it was a lot of fun. Everything was still in full bloom and very colorful.
After the Arizona Trail Mom and Lena did another one of those, what do they call them, "obstacle runs". Sounds like a three day eventing course from what mom tells us.
I got to go out both Apache trails again. We had a great time with lots of water along the trail. Gorgeous sunsets specially in the Dragoons. Those are always my favorite ones.
Between the two Apache trails we managed to squeeze in the Mt. Carmel endurance ride. I got to do the 50 miler on day one, go for a sunset ride the same evening and a 15 miler down to the Paria river the next morning on our way home.
That's what I do for my mom.
After the Apache trails we left for a month to do two Geronimo trails at the Grand Canyon. I actually didn't get to go, so mom had to do her pre birthday ride down to the rim with Ebony and Frankie. Everyone told me though it was great to get out of the heat though. The nights were still nice and cool up there while it was getting pretty hot down here. Grandma and Grandpa went up there as well for the first trail and got to see the Grand Canyon again with everyone else. I heard of lots of elk sightings. Some huge herds coming to get drinks at the nearby watering holes.
We spent the month of July at home for a well deserved rest. Ok, I didn't really need one but we were all happy.
Mom got to go fishing with grandpa after her birthday to Saguaro Lake.
In August mom left again for two weeks to do a special Geronimo trail for a family. Natasha was the guide for that one and I think they all had a lot of fun despite the heavy monsoon rains with hail and a brief snow storm end of August on the last day. They told me that they had to look for alternative camp sites due to the monsoon rains this year.
Right after mom and the guys got back my sister Azi got to travel overseas to Germany to live with her good friend Ute Schrimpf. She arrived there in good spirit and already had some awesome adventures with Ute.
Shortly after that we started our fall season. I got to go out again with mom. First it was another Arizona trail, followed by two Apache trails and one last Superstition trail.
The first couple of trails were hot and humid since we did have a pretty good monsoon season again this year. But the desert was very colorful again. On the Arizona trail the trail was basically non existent, invisible underneath the thick, tall grass cover. But mom and lena and us horses don't need to see the trail anymore. We know where things are in the desert. One day I recall well was when we got surprised by a flash flood in Patagonia. It rained so hard that lena and Ron just barely managed to move camp that day. And we all rode to Canelo hills in the rain. It got a bit cold, we got our blankets at night and lots of food, so it was all good.
The following Arizona trails were a little less dramatic. We did have lots of water left along the trail from the monsoon rains and lots of grass to munch on along the way.
Mom and Lena managed to take Frankie and Heza to an Endurance ride in between the two Apache trails. They did a 50 miler at the Man against Horse race in Prescott. Taking it pretty easy, they came in in the middle of the pack. We all got to do an easy 25 miler during the second Apache trail in Sonoita. Even Sandie, Ebony, Black Girl and Bo got to do the LD with their riders.
Then we had another Superstition trail and on the last day we finished the season off with a 30 miler at the Mc Dowell Lead Follow or get out of my way ride. The Superstition rides are tough on us horses, yet I must say my favorite one. Lots of climbing, and lots of scenery, scenery, scenery.
For the more visual version of our trails click here or go our website and click on the news link.
In terms of the other four-legged family members mom picked up Missy, a rat terrier puppy, from Moab. She drove through three Blizzards to pick up little Missis Clause, hence her name Missy. Good thing since we sadly had to say goodbye to Puppy this fall. RIP
As for now we are officially on winter break. All of us hard working trail horses are doing great, getting fat and lazy in the pasture. Frankie had a great first season and Prince got to go on the last trail only, but is now looking forward to a full next season.
Blue Boy is still not up to the work load on trail and most likely will never go out on trail with us again. He says he is feeling good though and enjoyed the rodeo Parade and enjoyes the short easy trail rides around home. He did mention though that if one his fans wants to take him home he might consider that. Otherwise he will remain here and enjoy his retirement for the rest of his life.
Blue Fire had a pretty bad episode of laminitis this summer. She is doing much better by now due to the immediate and constant care of everyone here. Mom spends a lot of time working on her feet and she is back out to pasture again with the rest of us.
Mom has been saying something about retiring Kid one of these days. At 18 and 15 years on trail he says he is not ready for retirement yet though. I heard rumors of getting a new family member, a 4 year old chocolate Rocky Mountain horse, which mom says might be a young replacement. Well, he will have to work a long time and work really hard to replace our hero kid though.
Mom and Dad have been pretty busy after the major clean up and are getting involved into what they call environmental issues. Dad is up in Standing Rock, North Dakota to support the Sioux tribe and their horses fighting an oil pipeline right now. He'll be back soon though, so mom and I can do some trail explorations for a new trail for next year.
Which already gets me to thinking about the New Year. Mom says our schedule will be similar to this years dates and trails, with the exception of a new Wilderness trail we'll call the Arizona wilderness trail. It'll go mainly along the official Arizona trail from the Salt River to Payson. We'll cross the Four Peaks wilderness, the Matzazal and Verde River wilderness. It sounds exciting to me . I always love to explore new territory. If you are up for our virgin departure in May let mom know. It'll be fun. click here for the itinerary.
Mom said she'll donate 2 % of each booking to the wilderness.org so we can help preserve our wilderness areas of the south west. Mom says now is the time to act because of the ever increasing and accelerating exploitation and destruction of mother earth by humans.
I don't know exactly what she is talking about but we do see a lot of changes in our environment.
Mom has also been talking about the increasing tension and loss of tolerance out there. From my humble perspective, you are 'just humans', like we are 'just horses'. We all live on the same planet (I think), we all need the same things, a place to live, food and water (oh, I do love my hay, mash and carrots) mother earth provides for us. So we should all do our best to keep her the way she is.
With those words I'll call it a day. Always remember that, no matter what, we will be out here in the desert waiting to share our little world with you.
Trail schedule for next year is up on our website. click here to check it out.
Mom said she won't do a calendar this year since there was no demand for it over the past few years. If you do want one let her know and she can still make one towards the end of the year.
We want to say thank you to Tammy, Natasha and Jacob who helped on the trails, to Liz and family up north for providing our base camp for the Geronimo Trails, to Dad Ron and Grandma for taking care of the horses and dogs that stayed at home as well as their constant support they give Mom Dom and Lena when they are on Trail with us. And also granddad who joined us for a little while. And of course to all of our guests who joined us this year and anytime before to make it such a great and rewarding experience.
We all, (Heza, Bo, Ebony, Sandie, Blondie, Kid, Stormy, BG, Prince, Blue Boy, Blue Fire, Frankie, Queenie, Katie, Cowboy, Chica, Bandito, Buddy, Dany, Missy, Poncho, Lena, Ron, Dominique and myself Spotsie)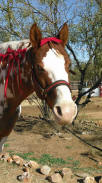 wish you a Merry Christmas and a Happy New Year!!!!!!!!!!!!!!!!!!!!!!!!!!!!!!!!!