Arizona Wilderness Ride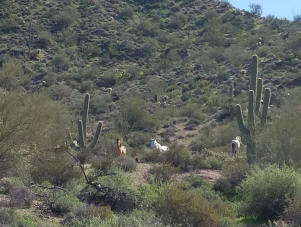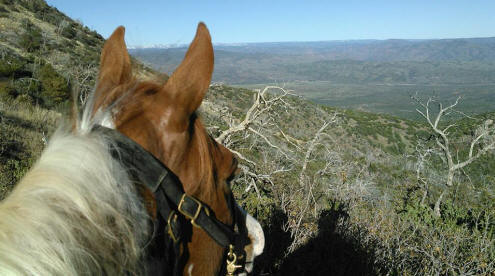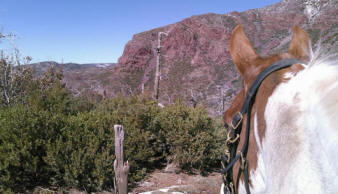 Join us on our true wild west adventure
traversing some of the most beautiful Wilderness areas in Arizona.
You'll see wild horses, giant saguaros, experience endless mountain trails and canyons
and get to enjoy breathtaking views from the back of our amazing horses.
10 day ride from the Salt river to Payson (8 riding days)
This trail is like all of our others vehicle supported to provide all modern comfort in camp
like hot showers, meals , luggage transfer and camping gear provided.
Arrival: Phoenix intl. airport
First and last night at Quality Inn airport.
Dates 2017 : May 20 -29
October 21 - 30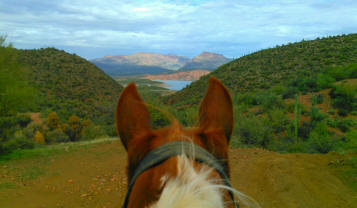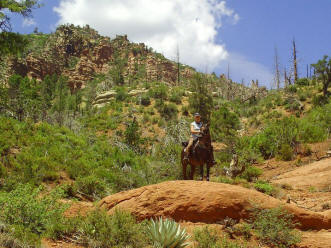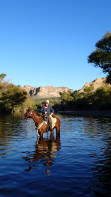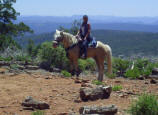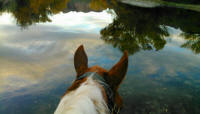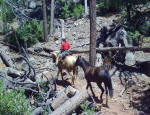 Trail Itinerary
Day 1 (sat): arrival in Phoenix and transfer to Hotel
Day 2 (sun): pickup at hotel at 9 am. Transfer to camp by cottonwood. Loop ride to saguaro lake and salt river. Riding through the true desert landscape with towering saguaros we ride south towards Saguaro Lake and the salt river. We will be able to see bands of the famous Salt River wild horses. One of the last wild horse populations in the state of Arizona loved and protected by the salt river wild horse management and the state. (~15 miles)
Day 3 (Mon): a long ride along the great western trail through the Four peaks wilderness area. More true desert riding amongst Saguaros, hidden canyon and great views of the valley, superstition wilderness and far beyond. Camp will be at the Cross F south of Sunflower. (~25 miles)
Day 4 (Tue): A long ride through part of the Matzatal wilderness area to Barnhart. Now the real adventure begins. A fantastic ride on mountain trails through untouched wilderness up to Mt. Peeley. Following the very rugged Arizona trail along canyons and ridges to Barnhardt trail head. Camp at Barnhardt. (~30 miles)
Day 5 (Wed): Back on the Arizona trail another long ride through the scenic Matzazal wilderness. Following steep mountain trails, passing Hopi springs to Bullfrog springs down to the East Verde river we'll be rewarded with awesome views and the big cottonwood trees marking the waterfront of the East Verde river. Camp near Baby Doll ranch. (~28 miles)
Day 6 (Thur) : And back through the wilderness along the Arizona trail over to Strawberry. Another long ride with views of the valleys to the east and west up on top the cedar covered mesas of the Mazatzal wilderness. Camp by Strawberry. (~24 miles)
Day 7 (Fri) : And on we go along the Arziona trail to passing by Pine to camp Geronimo on the highline trail. The trail will lead us up and down into magnificent canyons up to the highline trail with great views of our accomplishments. Camp near camp Geronimo. (~28miles)
Day 8 (Sat): Our last long day in the saddle brings us back out of the tall pine country down to our final camp at Houston Mesa in Payson. Along the way we'll have another swimming opportunity at the East Verde river again amongst towering granite walls full of petroglyphs and rock appartments of ancient civilizations. Last stop will be at at the ancient village of shoofly . Archeological proof of other civilizations inhabiting the area before our time. Camp at Houston Mesa horse camp.
Day 9 (sun): A short loop ride around camp and return to the comfort suites in Phoenix. (~15 miles.
Day 10 (Mon): departure day.